Push-Pull Thread Checks with the PPT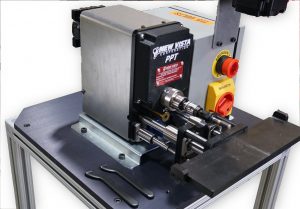 The PPT Thread Machine is New Vista's latest and most affordable bench-mounted, manually-operated system to date. It can be used for thread gaging or thread remediation (chasing or retapping). Its small footprint (400mm long, 280mm wide, 267mm high) makes it portable and it requires no programming. These factors allow for shorter deliveries and easy set-up: just plug it in, and it is ready to use. To verify a part, the operator simply pushes the part forward; to reverse, the operator only needs to pull back. If needed, this system can be operated with the kinds of hand gages that you already have, and without any fixturing or part guides at all, but for fast cycles guides can be of considerable benefit.
The PPT is supplied in two configurations: the basic PPT Unit (no depth control), and the PPT with depth control. Adding the depth control feature allows the PPT to run faster cycles, eliminate the possibility of crossthreading, and display a full-area green flash to indicate a good part. In either configuration, the PPT is faster and more ergonomic than any handheld unit, which necessarily requires the operator to align small or awkwardly-shaped parts by hand. This system is designed to reduce both awkwardness and cycle time, while simultaneously eliminating operator fatigue.
The New Vista PPT is suited for a wide range of applications and offers speed and flexibility in an affordable package. Discover how the PPT can be used for your quality application needs by contacting us today.