New Vista Handheld Thread Verification & Cleanout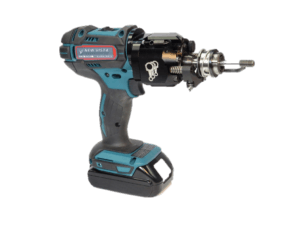 As the latest addition to New Vista's line of thread verification and cleanout solutions, the TC Thread Gun offers unparalleled convenience when inspecting or chasing multiple threads in large parts. The standard TC Gun is equipped with quick change tooling and depth setting, allowing most internal and external "GO" thread inspections (and cleanouts) to be performed in 4 seconds or less. As always with New Vista designs you get (adjustable) limited torque going in, and much greater torque backing out, eliminating the possibility of jamming in the hole or cross-threading.

The trend to replace hand gaging with powered thread verification is a prime example of technology making the workplace safer and more efficient. Not only will you find that your inspection time is greatly reduced, but your operator's risk of repetitive motion injuries (carpel tunnel) is all but eliminated when employing the TC Gun. Once set up and running there is very little maintenance required, and most customers see rapid returns on investment.
You can see a New Vista TC Thread Gun inspecting multiple holes in large Housings in video VTC2.
Contact one of New Vista's Application Engineers today to find out what you can save by expediting your thread inspection process. Expert applications service is available from our U.S. location and in several other countries as well. Please inquire.