Powered Thread Gaging: At Your Fingertips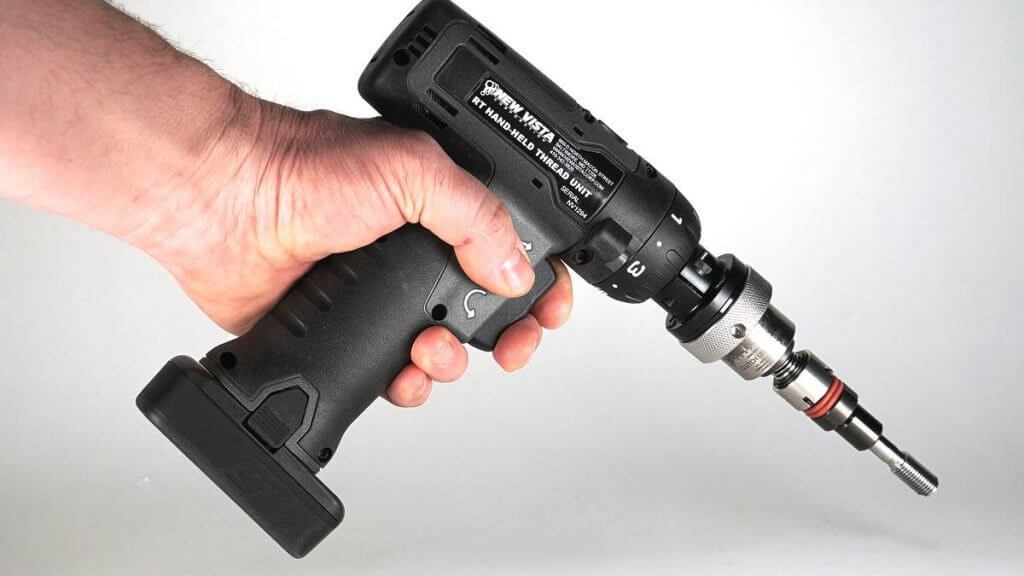 The trend to replace hand gaging with powered thread verification is a prime example of technology making manufacturing safer & more efficient. Gaging threaded features has traditionally been done by hand, however, this is often tedious and allows room for operator error or injury. That's where the New Vista Handheld RT Thread Unit comes in. The RT Thread Unit allows an operator to quickly power a thread gage into (or onto) and back out of (or off of) a thread to ensure assemblability. Not only will you find that your inspection time is greatly reduced, but the risk of repetitive motion injuries is all but eliminated when using the RT. The RT Thread Unit Kit contains everything that you will need to start verifying your threads with your standard taper shank gages.
The RT Thread Unit Kit includes:
One RT Thread Unit equipped with a Type FP Chuck
Three tool adapters for taper shank gages (handle size 0, 1, and 2)
One torque adjustment tool
Two 14.4v rechargeable lithium-ion batteries
One battery charger
To order your Handheld RT Kit today, click here.