New Vista PLS Deburring Units
For deburring holes in automated systems.
The standard PLS Deburring Unit tooled to debur through holes in sheet metal parts.
The PLS can be equipped with tools to debur through or blind holes.
Can be supplied with Touchscreen HMI.
Variable rpm (var. freq.) AC drive: 100 – 2000 rpm, 230/460 vac.
Servo-driven feed-advance. Feed rates set/selected from touchscreen supplied.
Feed capacities to match customer's applications.
Built for continuous service in automated systems.
Available with a variety of deburring tools.
Capacity: Hole sizes from Ø6mm (1/4 inch) through Ø26mm (1-1/32 inch).
Gear-driven, with twin set of duplex (angular-contact) ball bearings.
Used to deburr both ends (both sides) of bores and holes — in a single pass.
Just a few seconds to deburr any hole.
Hole roundness and hole alignment are not critical.
Will work with flimsy stampings as well as machined parts.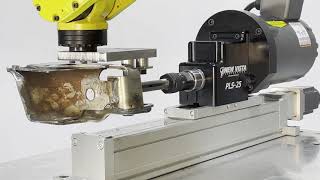 3D Model of PLS Deburring